What does this mean for you? Our technicians are simply the best.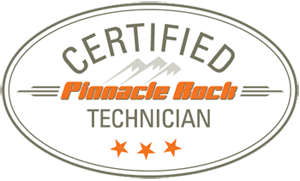 Certified Technicians
We certify every technician in their field of expertise, whether it be HVAC, refrigeration, or restaurant services. They believe in our commitment to exceptional customer service which stems from Pinnacle Rock's three pillars: honesty, integrity, and excellence.
In an industry where technology is constantly changing, we are regularly updating and improving our skills and knowledge. Pinnacle Rock requires continuing education for its technicians.
In addition to monthly safety trainings, they attend OEM (original equipment manufacturer) trainings and additional instruction in their specialty of choice every six months. Every year they are re-certified for existing licenses and evaluated for future trainings. All are NATE certified and licensed.